Course details
【Bakubetsu course】 2 hours with all you can drink 6000 yen ⇒ 5500 yen !!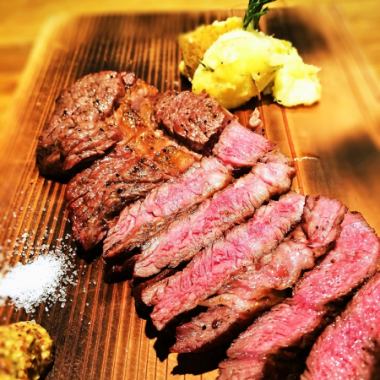 By using a coupon5500 yen
(tax included)
All-you-can-drink available

Approximately 50 species such as Asahi Super Dry · Hi Bowl · Sawa - · Wine · Cocktail · Non Alcohol Cocktail · Soft Drink etc.
Reservation deadline

Until 17 o'clock on the desired shopping day
Available days for reservation

Monday - Sunday - Public holidays - Holidays
Course born under the desire of "I want to eat meat that meets meat fleshly".Because there is 200 g of beef per person ♪ It is a considerable eating response ♪ Enjoy lavishly with a steak cut of 3 ~ 4 cm and chew it!
Course menu
◆ Appetizer Assortment (Spanish Omelette of Vegetable / Sesame Fuyed Chicken with Cream Cheese / Raw Ham / Tsungen Burst * Ham with Beef Tongue)
◆ Warm beef salad with spicy beef
◆ Australian Ribulose Thick Steak Steak 400 g
◆ Onion fried, potato fried
◆ curry udon or rice
◆ Mini Pudding
All-you-can-drink menu
·beer
·Asahi Superdry
·Highball
· Lemon High Ball · Grapefruit High Bow · Orange High Ball · Tomato High Ball · Cork High Ball · Ginger High Ball · Jack Soda · Jack Cork · Jack Ginger · Shinshu High Ball
·sour
· Lemon Sour · Grapefruit Sour · Orange Sour · Tomato Sour
· Shochu
· Potato · wheat · oolong · high · green tea · tea high
·wine
· Crunchy wine · Sangria (red · white)
·Cocktail
· Cassis soda · cassis orange · cassis oolong · lycheesada · lychee orange · lychee oolong · peach soda · peach orange · peach oolong
·Non-alcoholic cocktails
· Cassis soda · cassis orange · cassis oolong · lycheesada · lychee orange · lychee oolong · peach soda · peach orange · peach oolong
·non-alcoholic beer
· Asahi Dry Zero
·Soft drink
· Coke · Ginger ale · Orange juice · Oolong tea · Ice coffee
Coupons that can be used with this course
2018/10/27 update